How To Eat Vegetables When You Hate Them: [20 Proven Tips]
You are what you eat. This popular statement rings true today for everyone on the planet of earth.
For some, food slows them down: it makes them sluggish, tired, and unmotivated while for others, food provides them with a release of energy, vitality, and stamina to carry out their daily activities with ease.
This is not to say that one cannot enjoy a sugar-filled snack now and then, but incorporating healthy options into your diet can considerably better your life by providing energy, releasing serotonin, reducing blood sugar levels, glowing your skin, and making you look and feel youthful.
This article on how to eat vegetables when you hate them: 20 Proven Tips, is here to make adding healthy vegetables to your meals a breezy and enjoyable experience.
5 Surprising Tips On How To Eat Vegetables When You Hate Them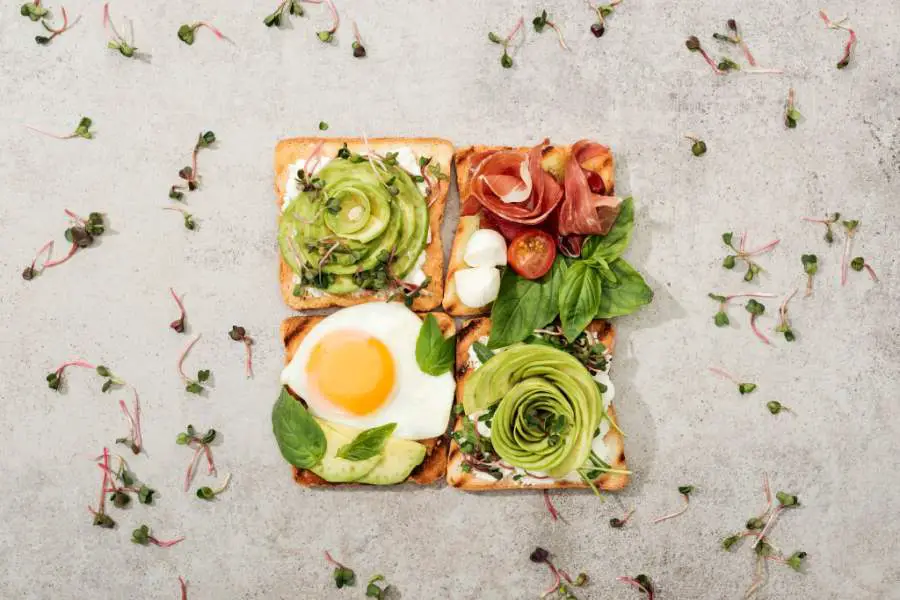 Without looking into the proper tips to eat more vegetables you may end up taking a negative and forceful approach which results in a deep hatred of vegetables from you, your family members, or your toddler.
These 5 Surprising tips on how to eat vegetables when you hate them are here to provide you a positive approach towards incorporating healthier options into your daily meals.
With no further ado, here's how to eat vegetables when you hate them.
1. Roast Your Vegetables:
The irresistible aroma from roast vegetables is sure to make mouths water.
Roast vegetables maintain their nutritious vitamins, minerals, and nutrients while boasting a rich crispness that's unlike regular vegetables.
This crispiness is the solution for people who do not enjoy the feel of vegetables and are looking into "how to eat vegetables when you hate the texture".
The dry heat of the oven lets loose the natural sugars of the vegetables which caramelize the vegetables, allowing for an irresistible taste and flavor that's sure to have you and your loved ones reaching for the vegetables with gusto.
Discover your winning roast vegetable recipe from the variety of notable recipes on Google. You will be sure to find recipes for vegetable haters. You can also let out your creative side by fashioning your own.
2. Bury Vegetables In Your Favorite Meals:
Rather than heap a ton of seemingly unappealing vegetables into a bowl or the side of a plate to increase its unappealing nature to your children or family members, a foolproof tip is to bury them inside their favorite meals.
Incorporate some healthy vegetables into delicious soups, pizzas, sauces, pies, and other meals.
These vegetables will not alter the taste of your meal and will receive a much more positive response from your family—especially family members who are picky-eaters.
This method also works for adults. If you are looking into how to get yourself to eat more vegetables, try this method today.
3. Spice Up Your Vegetables:
Spicing up your vegetables with peppers can aid the previous tip of adding colors into your served vegetables. Orange and yellow peppers are quite sweet as well as red cherry peppers.
If you have been thinking "How do I eat vegetables when I hate them?", mixing these flavorful additions with your vegetables can make them more appealing and tasty.
4. Say Yes To Cheese:
Just as saying cheese has everyone smiling for a photograph, adding some delicious cheese to your vegetables can make you and others more receptive to the consumption of vegetables.
Consider adding healthy cheese such as Feta, Blue Cheese, Parmesan, and Cheddar into your vegetables.
5. Dress Your Vegetables How You Want Them To Be Addressed:
The last of these 5 Surprising tips on how to eat vegetables when you hate them is to dress your vegetables how you want them to be addressed.
Do you want your vegetables brushed to the side in favor of a more attractive option like an extra slice of pie or another serving of pasta?
If your answer is negative then you can make your vegetables more appealing by adding dressing to them.
You may be worried about killing the nutrients in your vegetables by burying them under extra calories of fat, but there are healthy and yummy dressing options such as Greek yogurt, honey mustard, lemon juice, and olive oil.
If you are going for salad cream or other branded dressings, make sure to use them sparingly. The goal is to eat healthy after all.
5 Ways To Increase Fruit And Vegetable Intake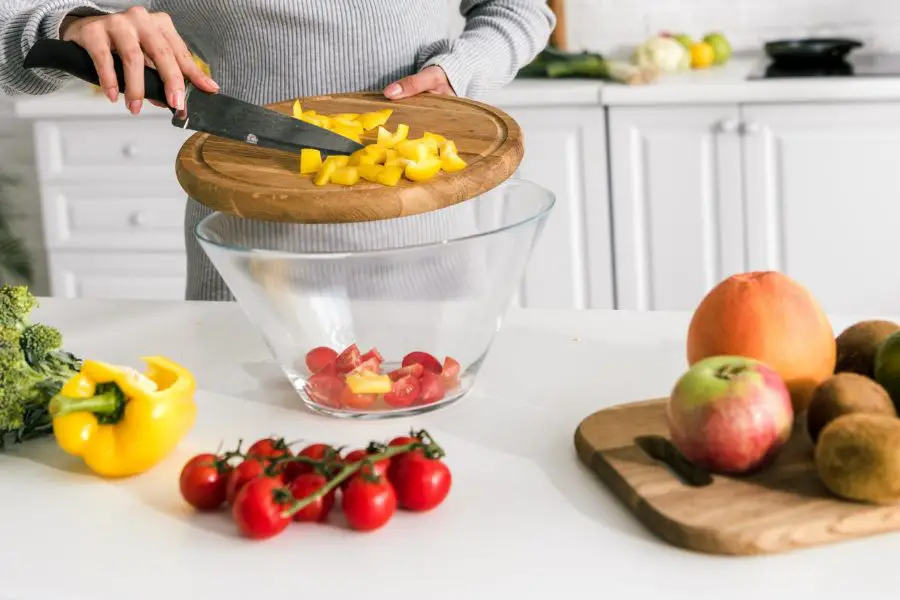 6. Make Them Attractive:
When you come across an item with a very bright color, it captures your attention.
You may find your mouth watering at the sight of a delicious meal filled with all the yummy ingredients you like. Yet when it comes to vegetables, people tend to make it rather "blah".
Your toddler is not going to be encouraged to eat a boring salad or serious-looking vegetables, such as broccoli which resembles a shrunken tree.
Even for adults, such vegetables may look unbecoming. So number 2 of 5 tips to eat more vegetables is to add color. Orange, red, blue, and purple are enticing options.
7. A Fruitful Incentive:
When looking into how to easily eat more vegetables, take things a step further by adding delicious fruits into your meals, such as olives, grapes, and pomegranates.
Olives are rich in Vitamin E and beneficial antioxidants. They have been proven to improve the condition of the heart, as well as protect against cancer and osteoporosis.
Olives are also high in sodium and fat, so they should be spread lightly across your salad or vegetable serving.
Grapes are packed with needed vitamins such as Vitamin C and Vitamin K. They help decrease blood sugar levels and the risk of diabetes.
Scattering a few grapes across your vegetable mix kills two birds with one stone and is one of the easiest tips to eat more fruits and vegetables.
Pomegranates contain powerful antioxidants that increase blood circulation and decrease the risk of heart conditions such as stroke and heart attack.
A bonus is its small size and appealing bright red color.
8. Take The Smoothie Road:
Chewing fruits and vegetables is not always as fun as it sounds or as easy. An easy tip on how to eat more vegetables and fruits is to make a smoothie with them.
Rather than struggling to make yourself or your family have to eat their fruits and vegetables separately, it is much easier to blend them into a smoothie.
Mix 2-3 fruits and 1-2 vegetables and add them into a blender. This will not only help make the taste of vegetables less invasive, but it will also make it easy to consume your vegetables.
You can make it more fun by icing the smoothies and serving them in attractive glasses and cups, making your children and yourself more excited to have them.
If you are constantly on the go and lack the time to sit and eat fruits and vegetables, or to pack them with you. Smoothies are a lighter option to carry, so instead of reaching for that chocolate bar or another unhealthy option, you have your fruits and vegetables in a flask or water bottle to enjoy on the go.
9. Create A Positive Outlook On Fruits and Vegetables:
It may surprise you to know that the reason your children have a negative response towards vegetables is because of the negative outlook you have built around vegetables.
Encourage your kids to eat vegetables by consuming them yourself.
Let your children see that vegetables are a good thing and not the awful punishment they have to go through before they can enjoy a delicious treat like Ice-cream.
Do not also talk about vegetables negatively or force them to eat them. This is because children will instinctively want nothing to do with vegetables.
Allow them to understand that vegetables are fun by incorporating the above tips or creating fun activities centred around eating vegetables, such as asking your kids to assist you in preparing the fruits and vegetables for their meals.
10. Cut Down Costs By Season:
Sometimes, it is not just a lack of interest that hinders the consumption of fruits and vegetables, but the prices. The last tip on 5 ways to increase fruit and vegetable intake is on cost efficiency.
By purchasing fruits and vegetables that are in season, you are not just getting sweeter tasting fruits and vegetables but you are significantly cutting down on costs.
Fruits and vegetables in their season are abundantly in stock.
Due to this availability, there will be ensuing competition among fruit and vegetable vendors to sell their products at more affordable prices.
Thus, shopping by season is one of the cheap ways to eat more vegetables and fruits.
How To Make Vegetables Taste Good For Picky Eaters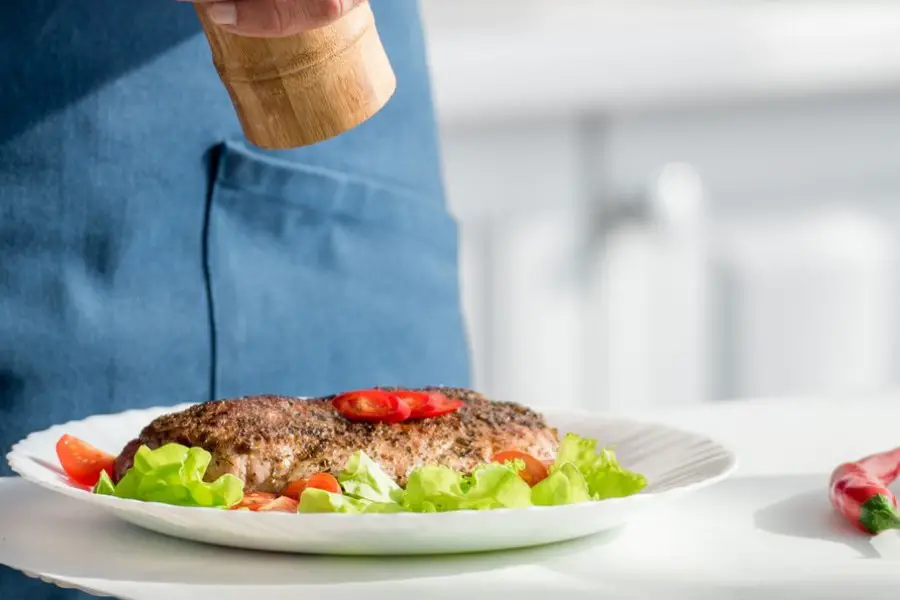 Searching for how to eat vegetables when you hate them is no surprise when you are a picky eater, a parent, or a guardian of picky eaters.
11. Infuse More Flavor:
You may have experienced moments where you are sure you do not want to eat anything only for you to feel peckish or hungry when you smell an enticing aroma.
Adding more flavor can do the same for your vegetables.
You can add more flavor through healthy but tasty toppings such as feta cheese, toasted nuts such as cashews and almonds, and other appetizing additions.
12. Add Appetizing Dips and Spreads:
Adding delicious dips and spreads can make your ward, your child, and you more open to consuming vegetables.
Spread a little peanut butter on fruit slices such as bananas and pears. You can also dip fruit slices into melted chocolate or Greek yogurt.
Create your dips and spreads keeping in mind any allergies that may affect the choice of dip or spread.
13. Make Soups Per Season:
The solution for how to eat more vegetables without eating salad is to make a delicious yet healthy alternative: soups.
A hot soup packed with healthy vegetables and fruits like berries will provide much-needed warmth and nutrition in cold seasons while a cold soup will provide much-needed refreshments in the hot seasons.
14. Eat A Rainbow Every Week:
Picky-eaters turn down a meal a lot of the time because they are bored. Avoid repeating the same serving of vegetables and fruits by taking on the "eat a rainbow" challenge every week.
Make every meal an adventure by surprising your picky-eaters with a variety of colorful fruits and vegetables to eat with their meals or enjoy as a refreshing smoothie.
How To Eat More Vegetables For Breakfast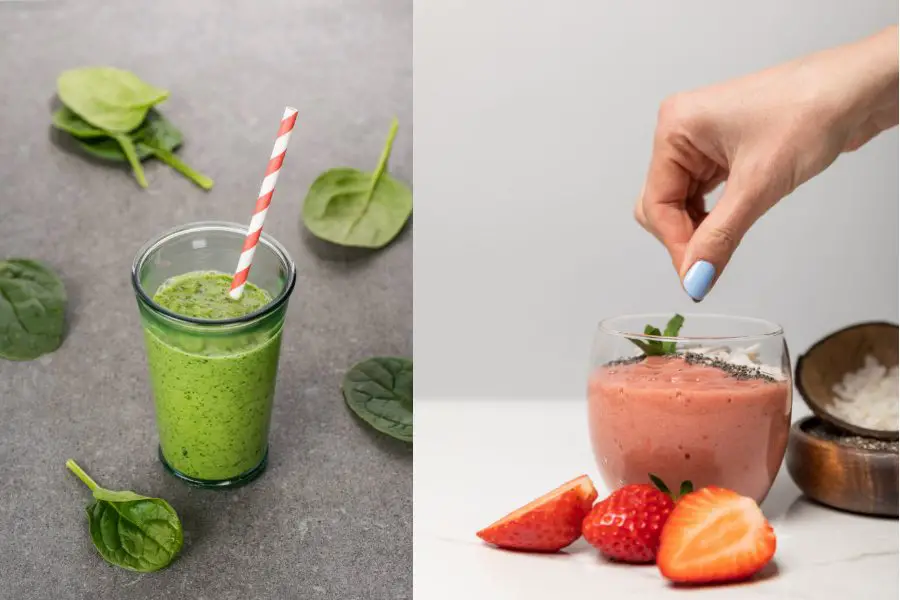 15. Add Vegetables To Your Eggs:
Enjoy a quick, delicious, and nutritious breakfast by adding a few vegetables to your omelet or scrambled eggs. You can chop carrots, spring onions, broccoli, and other vegetables of your choice and store them in a Ziploc bag which stays refrigerated.
You can easily pull them out and save time when making breakfast. You can also search the web for delicious vegetables and egg recipes to brighten your mornings.
16. Add Vegetables To Your Toast or Sandwich:
Toasts and sandwiches are easy breakfast options.
By creating your recipe or using a recipe of preference from the web to suit your vegan or non-vegan palate, you can incorporate delicious vegetables into your breakfast.
17. Make A Smoothie:
Smoothies are a delicious way of incorporating vegetables into your breakfast, you can enjoy a mix of vegetables on the go and add some fruits into the mix.
Those wondering how to eat more vegetables for breakfast because they hate the taste will be able to enjoy tasty fruits like strawberries which will make the vegetables enjoyable to consume.
Recipes With More Veggies
Adults who don't eat vegetables may become more open to the idea by discovering recipes with more veggies.
18. Baked Eggs With Roasted Vegetables:
The ingredients of this recipe include;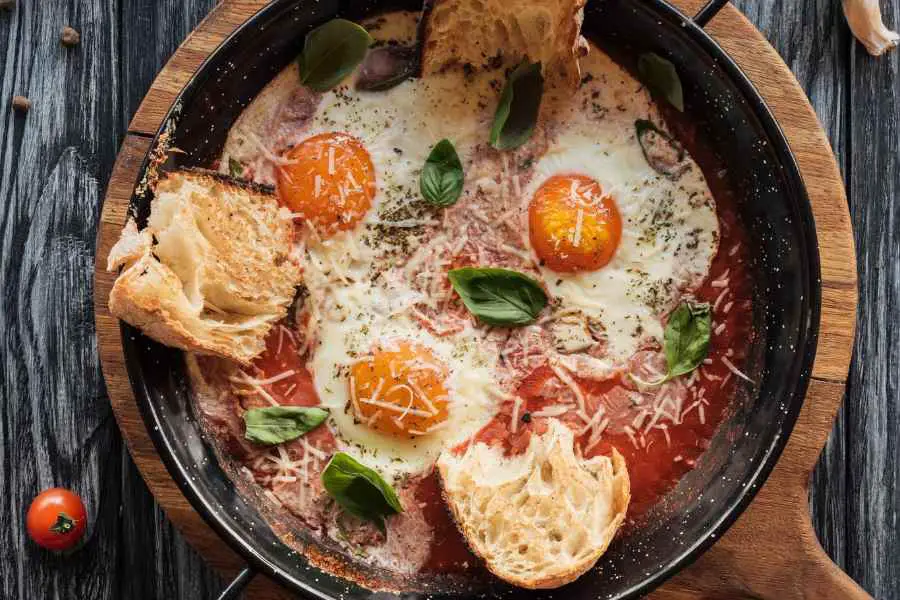 • 3 small cups of broccoli florets which measure up to a size of 1 inch)
• 12 ounces yellow potatoes, such as Yukon Gold, cut into 1/2- to 3/4-inch pieces (about 2 cups)
• 1 large sweet potato, cut into 1/2- to 3/4-inch pieces (about 1 cup)
• 1 small red onion, cut into thin slices
• 2 tablespoons olive oil
• 6 eggs
• 2 ounces Manchego cheese, shredded (1/2 cup)
• ½ teaspoon cracked black
First Step:
Ensure that the oven has been preheated to approximately 425 degrees. Cover a 2-quart rectangular-shaped baking dish with a non-stick cooking spray.
Then, in a big bowl, mix your yellow potatoes, broccoli, onion, sweet potato, olive oil, a quarter teaspoon of salt, and then toss them.
Second Step:
In your coated pan, pour the mixture and spread it equally. Allow them to cool for ten minutes. After this, stir the vegetables and return to the oven until the vegetables start to brown or become tender—about five minutes.
Remove your pan from the oven, spread the roasted vegetables inside a baking dish, and leave to cool. After it has cooled, cover the baking dish and leave it in the refrigerator for about eight hours to a full day.
Third Step:
Preheat your oven to 375 degrees Fahrenheit, while you defrost the chilled vegetables at room temperature for half an hour.
Fourth Step:
Remove the covering on your baking sheet and bake the defrosted vegetables for five minutes. Remove from the oven and make six wells in each layer of the vegetables. Inside each layer, break an egg.
Return your bowl into the oven to bake for five more minutes.
Drizzle cheese over the vegetables and bake until the egg whites are ready and the egg yolks thicken. Your meal is complete with a sprinkling of your preferred pepper.
19. Ultimate Veggie Pizza:
With a preparation time of only 25 minutes and a cook time of 20 minutes, this delicious Italian vegetarian pizza recipe serves 6. Below is the second of our recipes with more veggies.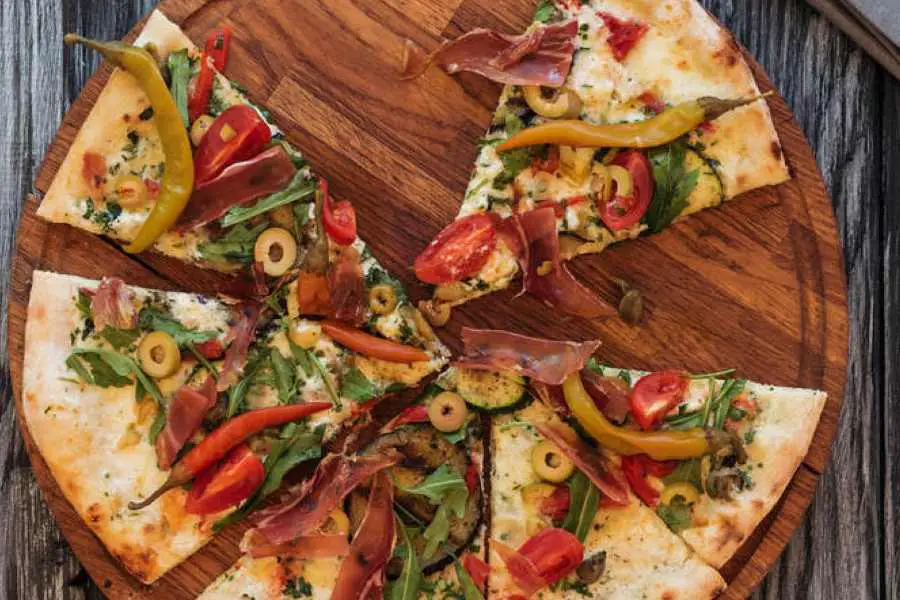 INGREDIENTS
• 1 pound of pizza dough or whole wheat pizza dough from the store
• 1 cup of marinara or pizza sauce
• 2 to 3 cups/8-12 ounces of shredded low-moisture mozzarella cheese
• 2 cups of baby spinach
• ½ cup of canned or jarred artichoke, cut into 1-inch pieces
• ½ cup red onion, sliced into thin wedges
• ½ cup of halved cherry tomatoes
• ½ cup of fresh orange or red bell pepper, sliced into thin 2 inch strips
• ½ cup of sliced almonds (optional addition)
• ½ a cup of pitted Kalamata olives, split end-to-end
• Additional garnish options include Red pepper flakes, Parmesan cheese grated smoothly, small or chopped fresh basil leaves.
First Step:
Place your rack in the upper third section of your oven and, at 500 degrees Fahrenheit, preheat your oven. Unless you are making use of baking steel or a baking stone then place it on the upper rack. Prepare your dough using the fifth step
Second Step:
Take your pizza sauce and drizzle it equally over both pizzas, leaving as little as 1 uncoated inch around the edges. Equally spread the spinach over the pizza sauce. Spread all the cheese, makings sure to use all 3 cups if you desire the pizza seen in the picture above.
Third Step:
Add toppings of bell pepper, artichoke, red onions, tomatoes, and optionally, olives, and almonds over both pizzas.
Fourth Step:
Bake each pizza separately on the highest rack and bake for 10 to 12 minutes; until the pizza crust has taken on a golden color and the cheese is foamy and golden.
Make sure to monitor both pizzas as bake time can be lesser if you are making use of a baking stone.
Fifth Step:
Remove your pizzas and place them on a cutting board. Scatter red pepper flakes, fresh basils, and parmesan over your pizzas if you desire.
Your meal is ready to be sliced and served.
Store leftover pizzas in your refrigerator for up to up to 4 days. If you would like to keep the leftovers for a longer period then place them in a freezer. This delicious vegetarian pizza.
20. One Pan Thai Coconut Yellow Curry Chicken & Rice:
With a preparation time of ten minutes and a cook time of thirty minutes, this delicious non-vegetarian rice recipe is sure to become one of your household favorite recipes with more veggies.
INGREDIENTS
• 1 cup white basmati rice
• 1 tbsp. coconut oil, (more if needed)
• 2 minced garlic cloves
• 1 tbsp. grated ginger
• 1 pound skinless and deboned chicken thighs
• Freshly ground pepper and salt
• 1 bunch chopped green onions
• 1 julienned red bell pepper
• 2 sliced medium carrots
• 8 oz. green beans, trimmed at the ends and chopped into pieces about 2 inches long
• 1 can lite coconut milk (15 ounces)
• 2 tbsp. yellow curry paste or 1 tbsp. medium yellow curry powder
• 1 teaspoon ground turmeric
• 1 juiced lime
• ½ teaspoon salt
• Garnishing: Diced green onion, fresh cilantro
First Step:
On medium-high heat, place a deep 10-inch skillet or a large pot then add in coconut oil and garlic. Immediately this is hot, add your chicken and season it properly with freshly ground pepper and salt.
Allow this to cook until it is browned (4-5) minutes, toss it over, and cook the other side for the same amount of time. Transfer from skillet to a plate.
Second Step:
Grease the skillet or pan for sautéing over medium heat with ginger, garlic, chopped green onion, red bell pepper, green beans, and carrots. Let it absorb pan flavors for three to four minutes.
Third Step:
Combine coconut milk, lime juice, salt, turmeric, yellow curry powder and stir it until smooth. Reduce the heat to a simmer then add in your rice, ensuring it is spread equally.
Fourth Step:
Place your brown chicken on top of the pan and lower the heat. Cover the pan right away and leave to cool for twenty minutes. A majority of the liquid should be absorbed by this time and the rice should be cooked as well.
Sprinkle cilantro and green onions as garnishing. Serve your flavorful and delicious meal right away.
FAQ
How do you start eating vegetables when you hate them?
You could try making the vegetables in blended smoothies as this will increase your intake in eating vegetables. If the raw texture is not your thing, puree them instead.
What should I eat if I hate vegetables?
If you hate veggies, enjoy more soups. Prepare blended smoothies to increase your veggies consumption. Try lettuce wraps as well.
How can I force myself to eat vegetables?
You need to include them in your meal plan. Blend into smoothie, add your veggies to sauces, especially if you have picky kids. Try a lettuce wrap.
How can I be healthy if I don't like vegetables?
There are varieties of healthy foods if you don't like veggies, such foods are: low fat yogurt, fish, nuts, peanut butter, or protein in general.
This concludes today's piece on How to eat vegetables when you hate them: 20 Proven Tips. If you enjoyed the article do share with others who will no doubt benefit from these golden tips to add more nutrition into their lives.