Hosting ladies Night At Home: 21 Refreshing Ideas in 2022
There is arguably nothing as therapeutic as taking time away from the stress and demands of work and family to relax and catch up with your favorite girls. If this is your first time hosting ladies' night at home or you are looking into new ideas and tips to host an epic ladies' night that will be fun for all involved then you have come to the perfect place.
This article on hosting ladies' night at home: 21 refreshing ideas is here to give you all the insights towards hosting a breezy yet memorable ladies' night to treat your girlfriends.
Fun games For Ladies Get Together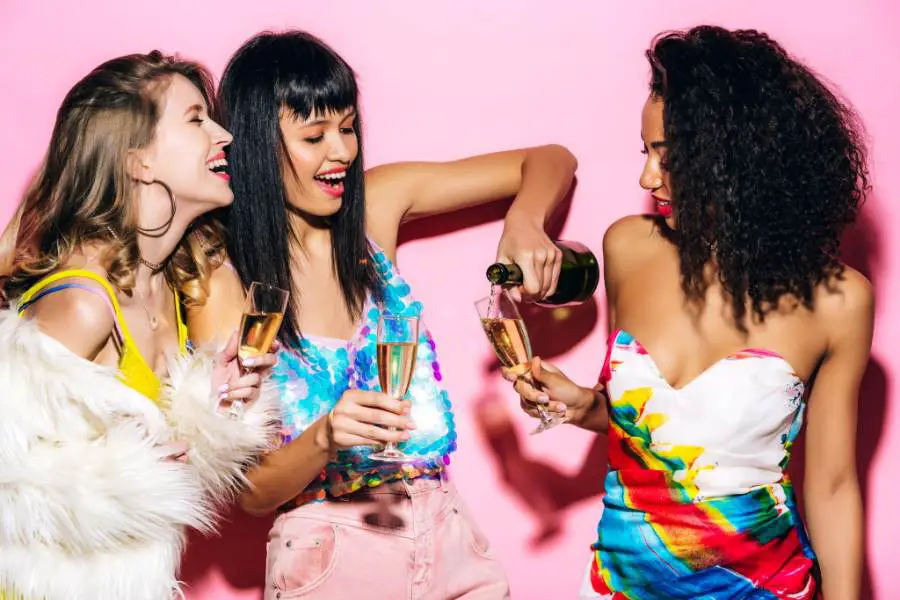 There are a ton of interesting and wild games you and your girlfriends can play during girls' night to recharge your connection, rewind from work and family stress and just have some unadulterated fun.
Below are some exciting games to play when hosting ladies' night at home.
1. Never Have I Ever: "Never Have I Ever" is a classic get-together game that you have likely heard about or played. Yet this game is a classic for a reason. But here is an exhilarating twist to this classic game.
Write down the questions you have been curious to ask your girlfriends, ask them too to write down theirs on a paper, and put these questions into a bowl. Make sure there is a limit to each question.
Start the game by asking a question introduced by the phrase "Never Have I Ever". For example "Never have I ever crushed on my girlfriend's significant other" or "Never Have I cheated on my partner". The host should take the first paper and ask the question in it then pass it to the next person.
Whoever has done whatever action the question asks must carry out an activity chosen by the group. Unlike the usual game which requires you to down a shot of alcohol, you can choose to pay a fee.
This risqué game gives you a golden opportunity to know your girlfriends better. But remember: what happens during ladies' night stays at ladies' night.
2. Banned Word: The point of hosting a ladies' night at home is not just to meet up with your girls and have a great time but to also detox yourself from the situations and people in your life who you might love but still feel stressed because of. Playing a game of 'Banned Words' when girls' night begins is a great way to help that happen.
Communicate with your girls on what words must be avoided throughout the night, for example, "husband", "gym", "divorce", "kids. Make sure anyone who says the words must carry out some activity as punishment. Another fun tip is they can swap their punishment for passes in the game of "Truth or Dare".
Please wait a minute! Apart from constantly publishing meaningful content here as the owner of this blog, I am also a fast-rising artiste who need your support by simply subscribing to my YouTube channel. Thank you so much.
3. Truth Or Dare: Truth Or Dare is a classic yet always entertaining game that involves each person choosing whether to tell a truth or perform some form of a dare.
There are applications online with truth or dare ideas that you can make use of. You can also ask your friends to write down their questions and put them in a bowl called the "devil's basket".
4. Two Truths And A Lie: Two truths and a lie is a game to test just how well you know your friends and what exactly you think they are capable of. It puts your understanding of their personality, morals, and daring nature on the line.
In this game, everyone in the group takes turns saying two truths and one lie about themselves and the rest of the group members are to determine what the truth is and what the lie is. Here is how to play this game.
• Each girl is to sit in a circle, either on chairs or on the ground.
• Explain the game to make sure everyone understands how to play. Give some examples of two truths and a lie.
• Give your players a short duration of time to think of two truths and one lie about themselves and jot them down.
• Go around the circle asking each of your girlfriends to tell one truth or one lie about themselves.
• Your girlfriends then pick which one they think is the truth and which one they think is the lie. Whoever guesses the lie correctly goes next.
• If more than one person guesses the lie correctly, randomly choose the next player.
• The person who guesses the most lies is to win a prize determined by the group members.
There are other variations of Two Truths And A Lie including Two Truths And A Dream/Wish.
Ideas For A Ladies Night Event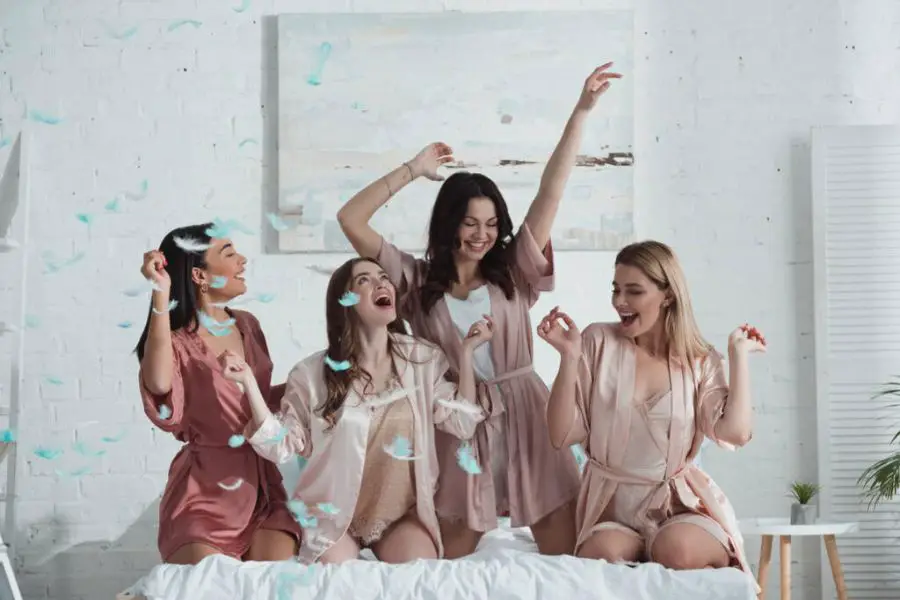 It can become a little overwhelming when looking into how to plan a ladies' night at home. Here are some ideas for a ladies' night event to make the process easier.
5. Allow For Different Leaders For Each Game: When hosting your ladies' night, it is very important not to monopolize the leadership of every single activity.
Allow for different leaders for each game. You can select the leaders beforehand or let them choose which game they would like to head. This will allow them to be better prepared and feel more included. It can also prevent feelings of unfairness or favoritism when the game starts.
Which, let us face it, is bound to happen when a group of people gets together for competitive activities.
6. Guess The Celebrity
• In a game of Guess The Celebrity, your girlfriends should write down the names of celebrities on sticky notes.
• Enforce a 'no peeking' rule to make sure that these names are unseen by other members.
• After the writing of names, each of the group members must pick a name and stick it on their forehead.
• Now, each group member is to try to guess the name of the celebrity on their note.
• You can switch up the rules by making sure they can ask for a maximum of one hint per group member.
• Whoever guesses the most names of celebrities wins and can pick a game of choice for the next ladies' night.
Ladies Get Together Ideas
If you are looking for some exciting and easy ladies' get-together ideas then you would appreciate these tips below.
7. Guess Who: Guess Who is a fun icebreaker to get the party moving. Here is how to play the game;
• Each of your girlfriends is given a secret identity of a fictional character or a movie star and other celebrities of choice.
• The names are printed on a name tag or sticky note and attached to their back, out of sight.
• Each guest must reveal the character assigned to them using hints from how the group members act towards them.
• Some new tips are to use famous movie quotes, catchphrases, or book quotes. For example, if you were to say the lines, "I am your Father" it would make it easy to guess the answer to be the famous Star Wars character, Darth Vader.
If you were also to say, "Girls Just Wanna Have fun" it would remind the player of the classic song by Cyndi Lauper. It can also throw off the player because you could also be referring to the writer of the song, Robert Hazard.
• Make sure to not call them the name on the sticky note or name tag by accident. Whoever does so should receive a fine. This fine should not be serious so as not to ruin the vibe of your ladies' night event.
8. Have A Dance Off: Amit Kalantri says that "The job of feet is walking, but their hobby is dancing." Thus, dancing can be a great way to shake off all the stress of the week and get some exercise all at once.
Play a range of music and even include games revolving around dance to get the party started.
You can also group everyone into teams depending on the number of ladies around. Have each team create choreography based on three music genres. The overall best in two wins. If there is a tie, the losing team should select the genre that the tied teams dance to and also choose the winner.
Hosting Ladies Night At Home: Food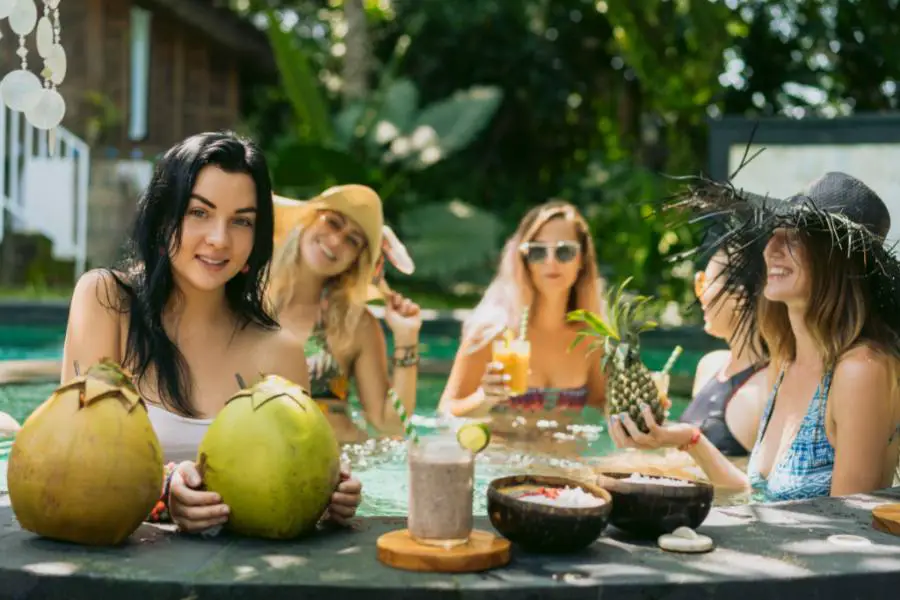 Virginia Woolf said, "One cannot think well, love well, sleep well if one has not dined well."
For you and your girls to have the best time when hosting ladies' night at home, there needs to be a steady supply of delicious treats.
When hosting ladies' night at home, food is essential. You need foods that can appeal to everyone's tastes, that are not too difficult to make, and will not have your guests feeling bogged down or too tired to play.
Appetizers
Get the party started with these yummy starters. Some of which are good enough to stand on their own.
9. Goat Cheese Pesto Bites: These yummy bites are easy to make. They are made with flatbread crackers, room temperature goat cheese, pesto absent of its excess oil, and cherry tomatoes sliced thinly.
Arrange your flatbread crackers in assembly order, coat them with goat cheese and a small quantity of pesto, and top with your cherry tomatoes. Easy, delicious, and photo-worthy, your goat cheese pesto bites are ready to be consumed.
10. Charcuterie Board With Cheese And Chocolate, and Fruits: Tips for selecting chocolates: Add a variety to appeal to all tastes from white chocolate to milk chocolate to dark chocolate to fruity chocolate and nutty chocolate.
To give you more clarity when shopping includes a mix of gourmet commercial chocolates and homemade bark.
Tips for selecting cheese: choose a variety of mild flavorful cheeses that go well with fruits, wine, and nuts. These include fruit-infused Goat Cheese, French Brie, and Vermont Artisan Cheese.
Include some fruits such as Pears, Strawberries, Blueberries, and Grapes.
Add some cookies such as chocolate cookie crisps, biscotti, and chocolate chip cookies.
11. Drinks: Ladies' night's drinks include Mimosas, Mojitos, and Pina Coladas. There are delicious iced and non-alcoholic variations of these drinks whose recipes you can look up in preparation for your night of fun.
You can also collaborate with your girlfriends or give the preparation job to someone who will deliver it to you.
Ladies Night Ideas At Home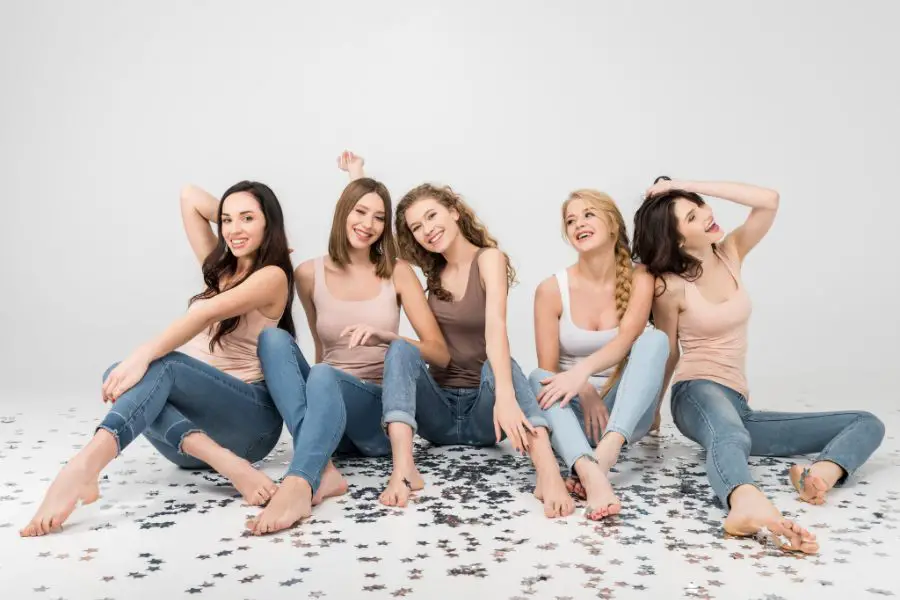 Making memorable moments for you and your girlfriends is key when looking into hosting ladies' night at home.
Here are some ladies' night ideas at home to keep the boredom at bay when your girlfriends are around.
12. A Movie Marathon
Having a movie marathon with your girlfriends in a dark-lit environment can be a therapeutic and relaxing ladies' night activity.
Get some delicious popcorn, drinks, churros, cupcakes, and chocolates to get your ladies night started. You can watch a new movie today by streaming it on Netflix, Disney Plus, or another streaming service of choice.
In no particular order, here are some throwback movie options, 'Breakfast at Tiffany's (1961), '27 Dresses', '50 First Dates', 'Something's Gotta Give', 'She's All That', 'Kissing Jessica Stein', 'My Best Friend's Wedding (1997), Sleepless In Seattle(1993), 'Bridget Jones's Diary (2001), 'Pretty Woman (1990), 'Sixteen Candles' (1984), 'The Princess Bride (1987), 'Notting Hill (1999), 'Groundhog Day (1993), 'Clueless(1995).
13. Have A Spa Night: The weekend is the perfect time to host a spa day at home. Create a group chat to check with your girls when would be best to host the spa say then make your invitations.
The invitations you send out should include the proposed date and time of the event. Your house address (directions, if necessary) and information on what every attendee should bring.
For better organization, you can also assign a task to each person. But if you have everything under control then there is no need. Although, you can never have too much wine available at a party.
What Your Girlfriends Should Bring To Your Spa Night: Your girlfriends should pack these items along with them or should have them readily available. These items include:
• Overnight bags and pillows
• Scented Candles Towels
• Open-toe slippers
What You Should Have Waiting For Your Girlfriends
You should have the following items prepared before your girlfriends arrive for your ladies' night.
• A spacious and clean living room or bedroom environment.
• A tidied bathroom with face cloths and towels (bonus points if they are heated).
• Sparkling water
• Fancy drinking glasses
• Citrus slices for the water
• Snacks: You can go for healthy treats or have a cheat day with some delicious chocolates, cookies, butterfingers, cupcakes, donuts, and the likes.
• Scented candles for ambiance and aroma.
• A film camera.
You can also take things a step further by hiring an affordable professional masseuse to help you unwind and loosen any muscle tightness that has been caused by work stress or strains from your personal life.
You can send the masseuse home after the spa session then have a private manicure and pedicure session with your girls afterward. Your girls can then sleep over and head home refreshed and ready for the week ahead.
Do not forget the film camera, have your masseuse capture all the fun-filled moments. You can also take the photos yourselves as needed. They will make for treasured memories later on.
14. Board Games: When wondering what to do for ladies' night at home playing a board game can be an excellent option. Games such as Monopoly Classic, Sorry, Scrabble, Hasbro Risk Game, Code names, and The Game of Life are fun for friends.
These games are highly competitive so it is important to maintain a peaceful vibe as you play. Keep in mind that the importance is not to win but to have an amazing and relaxing time with the ladies in your life who make you happy.
15. Video Games: Video games are also a more immersive and fun option for games night. When hosting ladies' night at home, games should not be single-player only.
You can enjoy several multiplayer games or team up into groups of two to take down your opposing teams. Connect your pads to your Xbox, PlayStation, or your gaming system of choice. Great video game ideas for you and your girlfriends include Mario Kart 8, Minecraft, and Fortnite.
Make sure to take breaks to have some refreshments and prevent any possible eye strain.
Girls Night In Party Ideas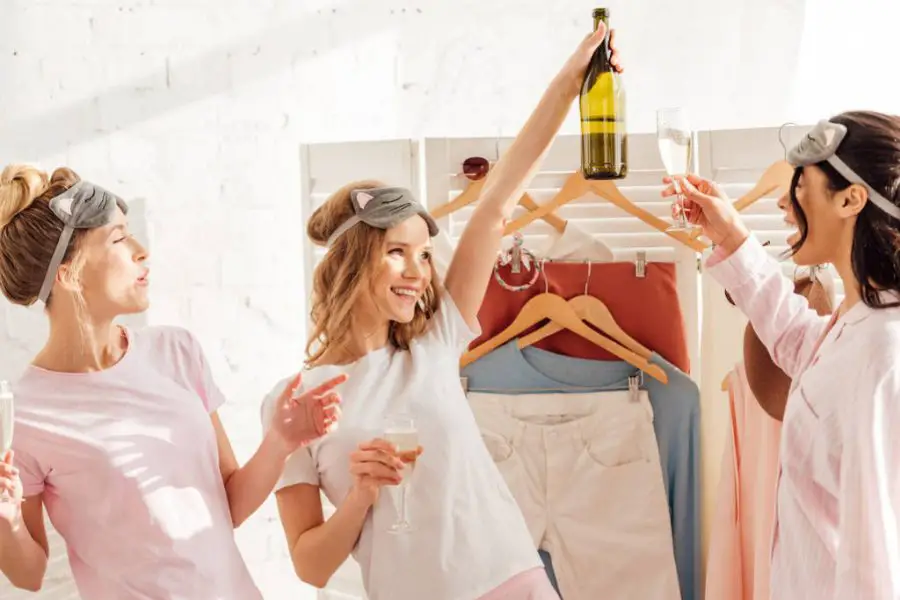 Making memorable moments for you and your girlfriends is key when looking into hosting ladies' night at home.
Here are some girls' night-in party ideas to ensure that you achieve that goal.
16. Beauty Pageant: Have you ever wanted to be a pageant model when you were younger? Trying on oversized clothing and accessories belonging to your mother and older siblings to see if they fit?
Well, ladies' night is a great opportunity to throw a beauty pageant. Release your inner Naomi Campbell and Gigi Hadid by attending ladies night with your favorite clothing pieces. Swap clothes with your girlfriends and strut your makeshift runaway.
Let there be a host, judges, number pads to rate their performances, and more. Everyone can come with their tiaras or contribute funds to award a tiara and sash to the pageant winner. Imagine all the epic photos and delightful memories to be had.
17. Mixing Competition: A mixing competition is a game that involves mixing several drinks to create the perfect cocktail. Spread out fruit slices, lemon juice, ice cubes, juice concentrates, sodas, and any other drinks needed and set a timer.
Whoever creates the best drink wins. The best part: there is no loser cause you still end up with a delicious iced cocktail.
18. Book A Joint Stay At A Beachside Hotel: A relaxing night at an exquisite beachside hotel with your girlfriends will be much more affordable when you all pull in funds for the stay.
It will also be more fun to have your trusted besties at your side. You can come out with your shawls and relax with the waves and feel of the sand while enjoying a glass of wine.
Also, take advantage of the hospitality services provided by your hotel without having to worry about cleaning up afterward.
19. Have A Bonfire: Picture a cozy bonfire with marshmallows and crackers, wine and laughter, waves and warmth, your girlfriends, and a sky full of stars.
This therapeutic environment also gives room for heart-to-heart conversations. There is something about the beach at night that calms you and relieves you of stress.
Do not be surprised if you find yourself or your girlfriends sharing a personal story that you were previously unaware of. Do not hold back.
By the end of the night, you will be left feeling lighter and closer to your girlfriends. It is sure to be an unforgettable memory for all involved.
Pitch in to get a polaroid camera or, if any of the girlfriends have one already, ask them to bring it along with them, so you can capture these sure-to-be treasured moments.
Girls Night Decorations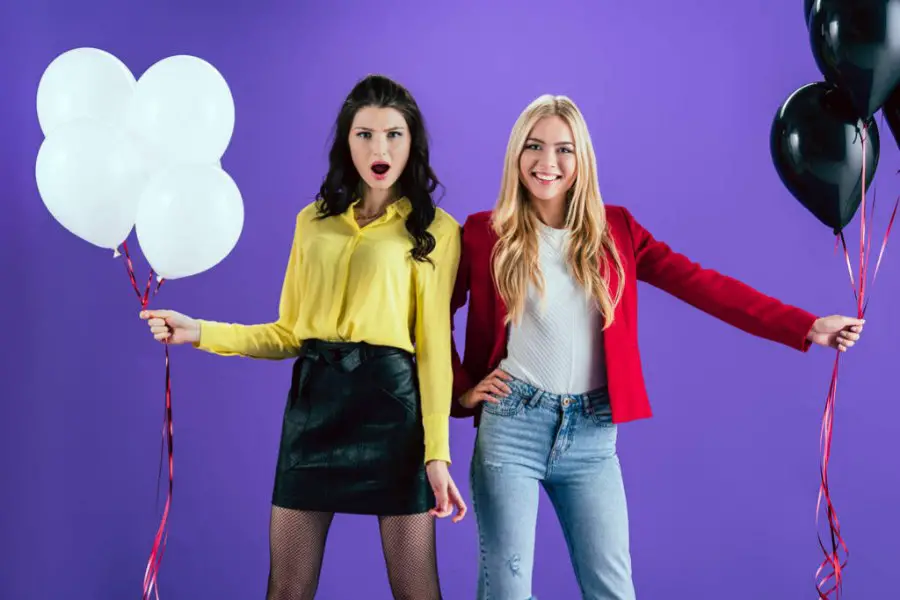 When hosting a ladies' night at home, decorations can help set the tone of the party and get your girlfriends and you excited for the night ahead.
Decorations will also help your photos look incredible and highlight what a fun and special time you all are having together. But hold off on those hashtags for now while you peruse the following girl's night decoration ideas.
20. Balloons: Nothing gets a party going like balloons. Contact a party goods supplier to get themed balloons of whatever color you want for your event. You can also get your balloons engraved with whatever suits you. For example, the balloons could say "No boys allowed" or "Ladies Night 2021".
21. Party wares, Napkins, and Plates: Get themed party wares, napkins, and more to set the tone for your ladies' night. Pink and purple always come out great in photos and when presented in person.
Contact a local party goods supplier to get these items at a discounted rate as opposed to buying them for separate retailers.
This brings us to the end of our article on Hosting ladies night at home: 21 Refreshing Ideas. Put these tips to use and enjoy a positively memorable and utterly entertaining night with your girlfriends.
Do share this article with your girlfriends and others who will no doubt benefit from having these entertaining tips in their arsenal.